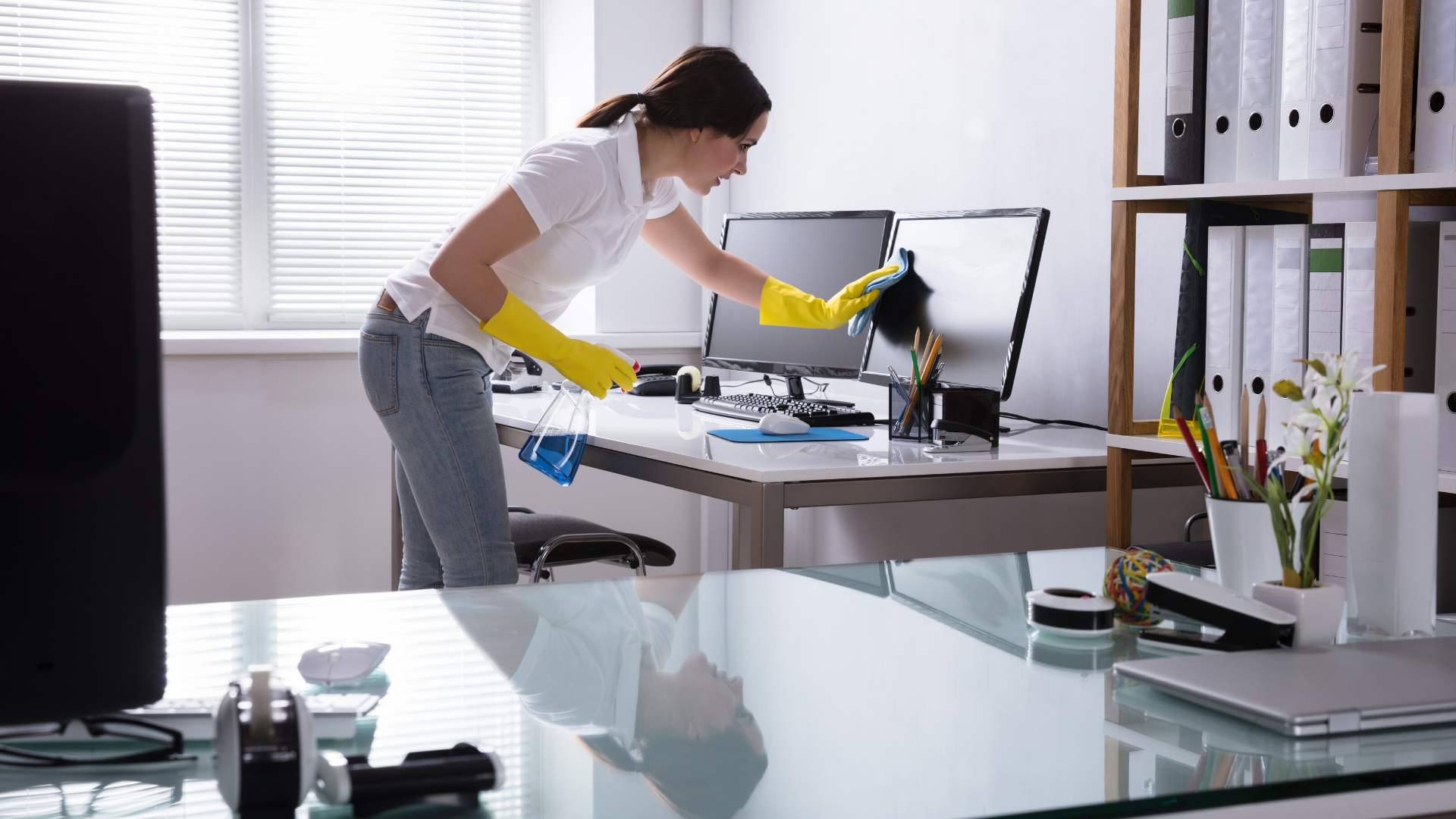 Keeping your home clean is a never-ending task. But that doesn't mean it has to be difficult. There are several time-saving things that we as  professional cleaners do every time we clean that can make the task a little more manageable.
Follow these 10 simple house cleaning hacks to have your home sparkling clean in no time!
Hack #1 – Always Clean from Top to Bottom
Cleaning each room from top to bottom ensures you don't knock dust or crumbs down onto a space you've already cleaned. Start by dusting the ceilings, light fixtures, walls, and windows.
After dusting higher up areas, move to furniture and decorative elements.
Now, finish up with the floor. As you clean, knock dust and debris from the higher sections to the floor as you work your way down. That way, you'll be able to clean faster and quickly vacuum up all the room's debris at one time.
Hack #2 – Make Cleaning Fast By Dividing
In addition to cleaning from top to bottom, it's best to divide each room into sections for quick cleaning. Clean each section before moving on to the next section, always moving from top to bottom.
Also, it's a good idea to start by cleaning the worst section of the room and moving on from there. Not only will this ensure that the dirtiest part of the room is cleaned first, but it will also make cleaning the rest of the room a breeze.
Hack #3 – Use the Dishwasher
You should  know that the dishwasher isn't just for dishes! Make the most of this handy appliance by using it to clean a variety of other items around the house.
When you're deep cleaning your bathroom, add your toothbrush holder and soap dish to the top rack to get the grime cleaned off those essential pieces without having to scrub.
Add your dish drains and range hood filter to the dishwasher while you're cleaning your kitchen to get those dirty pieces sparkling. You can even clean your cleaning utensils in the dishwasher!
Add your scrub brushes and sponges to the top rack to remove bacteria and mildew in between cleanings.
Hack #4 – Microwave Cleaning Hack – Steam it!
Your microwave can get grimy quickly. And all this stuck-on grime is difficult to clean. To loosen up the stuck-on pieces, place a cup filled with water in the appliance and run it for 3 minutes to allow steam to form.
Filling your microwave with steam will loosen the stuck-on residue. Then, all you have to do is wipe it away and your microwave cleaning is complete!
Hack #5 –Maintain Your Cleaning Supplies
Keep your sponges, mop heads, and scrub brushes clean by rinsing them after each use and allowing them to dry in a well-ventilated area. This is something we often overlook doing since the cleaning in itself can be tiresome enough.
It's also important to maintain your vacuum by emptying the canister or bag after each use and wiping off the inside and bottom of the machine when you're finished cleaning for the day. And don't forget to clean the filter and rotating brush regularly.
Hack #6 – Don't Forget the Squeegee
If you don't have a squeegee as part of your cleaning toolkit, you need one. There are so many uses for this handy cleaning tool. Get a streak-free clean on your windows, mirrors, and shower doors by using a squeegee to quickly and easily clean those glass surfaces.
Hack #7 – Look for Hidden Dust While Cleaning
One of the best ways to deal with dust in your living room and bedrooms is to tackle the places where dust can hide. Move furniture to clean underneath and behind each piece and deep clean your furniture by removing cushions and vacuuming in all the cracks and crevices. Do these tasks at least once a month to keep dust under control in these high-trafficked rooms.
Hack #8 – Always clean in Natural Light
Opening all the curtains and blinds in your house will reveal tons of hidden dirt and dust, which is why most professional cleaners do the bulk of their cleaning during the middle of the day.
Natural light is the best light to view your home with a critical eye, so stick to the time frame of 10 a.m. to 3 p.m. to do your deep cleaning. That way, you'll have plenty of natural light to brighten your home as you clean.
Hack #9 – When Cleaning, Make Use of Your Vacuum
Your vacuum can be one of the best tools in your cleaning arsenal. Use the appliance's various attachments to clean your drapes, furniture, and all those hard-to-reach areas. And when you're cleaning your floors, make sure you make two passes through each room.
First, vacuum the room horizontally, then go vertically to ensure you pick up all the stuck-on dirt. Take your time as you move through each room. The slower you move the vacuum the floor, the more likely it is that you'll pick up each tiny crumb and piece of dust.
Hack #10 – Take It One Step At A Time
The most important step you can take in cleaning your home is getting started. Once you have divided your home up and gathered all of the necessary cleaning supplies, things get much easier. Don't try to take on more than you can at one time. If you haven't always kept your place the tidiest or your cleaning up after some rather messy houseguests, the initial deep clean may seem a bit daunting.
Take it one step at a time and work your way from section to section. When you break up the job like this, it becomes much more manageable. Once you complete a truly solid deep cleaning, it is much less stressful to maintain on a weekly or even bi-weekly basis.
If you follow the steps above every time you clean your home, you will feel like you're living in a 5-star hotel in no time at all!
For more helpful cleaning tips, follow Tidy Time Saver on Facebook and Instagram!
We are Tidy Time Saver, the house cleaning professionals who've been making Regina, Saskatoon and areas sparkle since 2001!