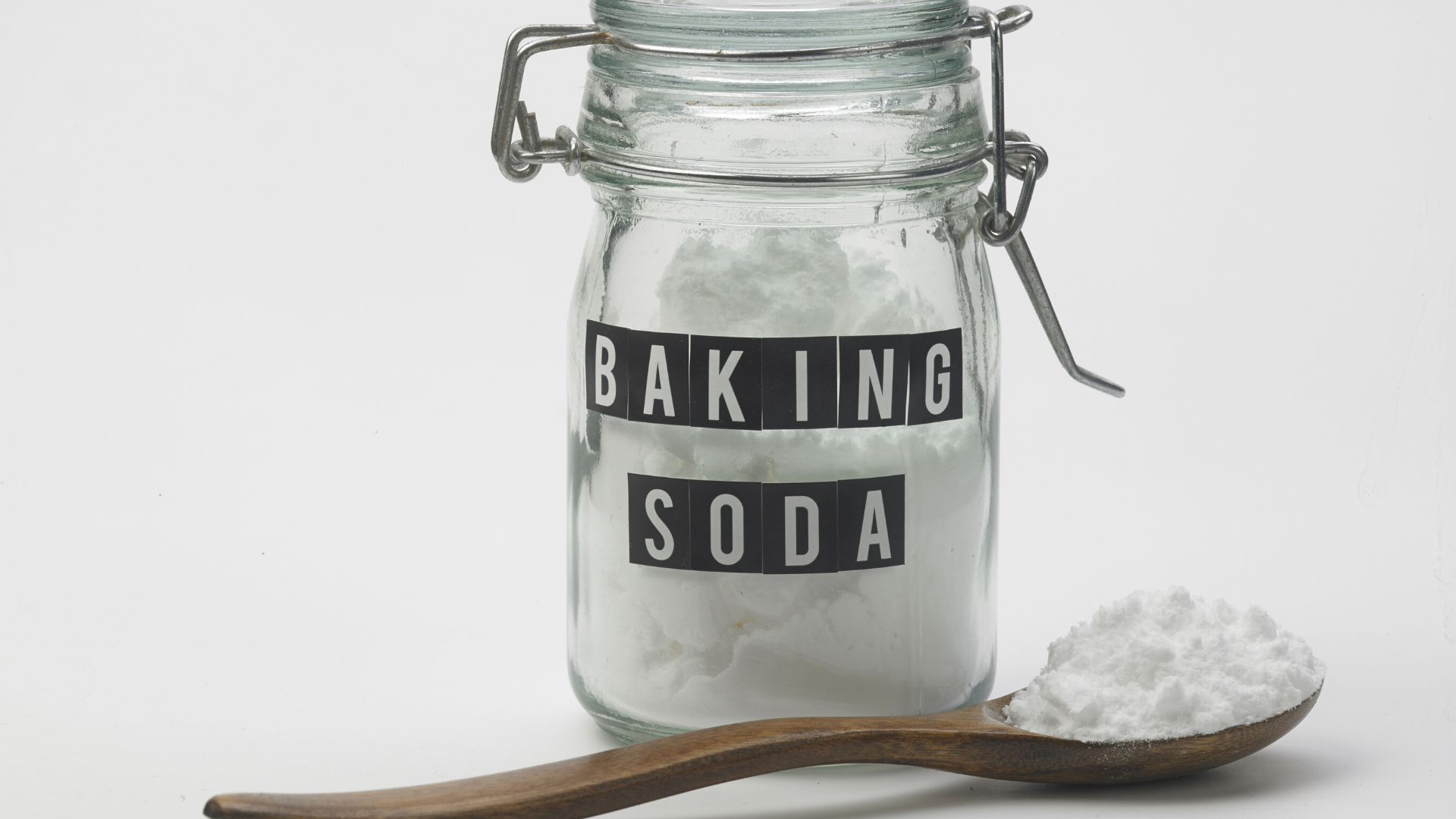 You must be thinking…baking soda? Yes, it's just not only great for baking but will also be your trusted, all-natural cleaner!
It's a wonderful natural cleanser because it has exfoliant and deodorizing properties and extremely affordable.
You can use baking soda to clean several things around the house and the results may  surprise you because in some instances does a better job than a lot of expensive cleaning products.
The best part? No harmful chemicals. Great for your kids and pets!
Here are 10 creative cleaning hacks that use baking soda. Just remember to never mix chemicals and stay safe!
Clean fruits and veggies
Soak your fruits and veggies in a diluted mix of baking soda and water, scrub and rinse dry. This will remove pesticides.
Oven cleaner
Add ¼ cup of warm water to ¾ cup of baking soda and this will make a gritty solution. Spread the paste inside of your oven and let sit overnight. Wipe away with a wet cloth. Afterwards spray the oven with a diluted spray of water and vinegar to remove any leftover soda.
Clear drains
Heavy commercial drain cleaners can do damage to your drains and be expensive to repair, so if you have a clogged drain, we suggest pouring boiling hot water down the drain. Then follow with 1 cup of baking soda. Next make a solution of equal parts vinegar and water. Pour it down the drain and let sit for a few minutes. Lastly, rinse with hot water and your drain will be clog-free.
Carpet refresher
If you have a pet, you will know what we are talking about. Smells cling to carpets and baking soda will give your carpets a refresher. Just like in your fridge, baking soda can deodorize and neutralize odors. What you do is liberally sprinkle baking soda on your carpet. Allow it to sit overnight if you can. Once ready, vacuum up the baking sodas best you can. You will find that your carpet feels and smells better!
Clean out toilet bowl rings
Attack your toilet bowl rings with baking soda! All you do is sprinkle it around the inside of your bowl and then follow it up with a cup of vinegar. Let it sit for 20-30 minutes. Then take your toilet brush and scrub the inside of the bowl like you normally do, flush and enjoy your sparkling bowl! No harsh chemicals needed!
Brighten your whites
Is your laundry looking drab and dull? Brighten them up with baking soda! Next time you wash your whites, simply add a cup of baking soda when you add your laundry soap. You will notice that your colours look brighter and whites, less dull!
Stovetop cleaner
Like many of us, after a family dinner your stove top may look like a disaster zone. Remove baked on stains from your stovetop with baking soda and vinegar. Sprinkle baking soda liberally on the stovetop. Add vinegar to a spray bottle and spray over the baking soda. Use a sponge or cloth that's damp to wipe away the mixture. Don't use a wired sponge on a glass top stove as it will scratch.
Wall marks
Whether it's a small mark or a smudge baking soda can make wall marks disappear! Add enough water to baking soda to make a paste. Apply it to marks on the wall and rub the paste in. Then use a damp cloth to remove the paste. Pat the wall dry and the mars should be gone.
Disinfect your dishwasher
If your dishes aren't coming out clean or your dishwasher has a weird smell, use baking soda to disinfect your dishwasher. Fill a measuring cup with vinegar and leave it in the top rack. Then sprinkle baking soda along the bottom of your dishwasher and run a cycle. Wait until it stops and wipe down the inside of your dishwasher. The grime and smell should go away!
Clean up your cutting boards
Is your cutting board smelling bad? Sprinkle baking soda on the board, then slice a lemon and use it as a scrubber to scrub the board with the soda. This will help deodorize it. Rinse clean!
For more helpful cleaning tips, follow Tidy Time Saver on Facebook and Instagram!
We are Tidy Time Saver, the house cleaning professionals who've been making Regina, Saskatoon and areas sparkle since 2001!