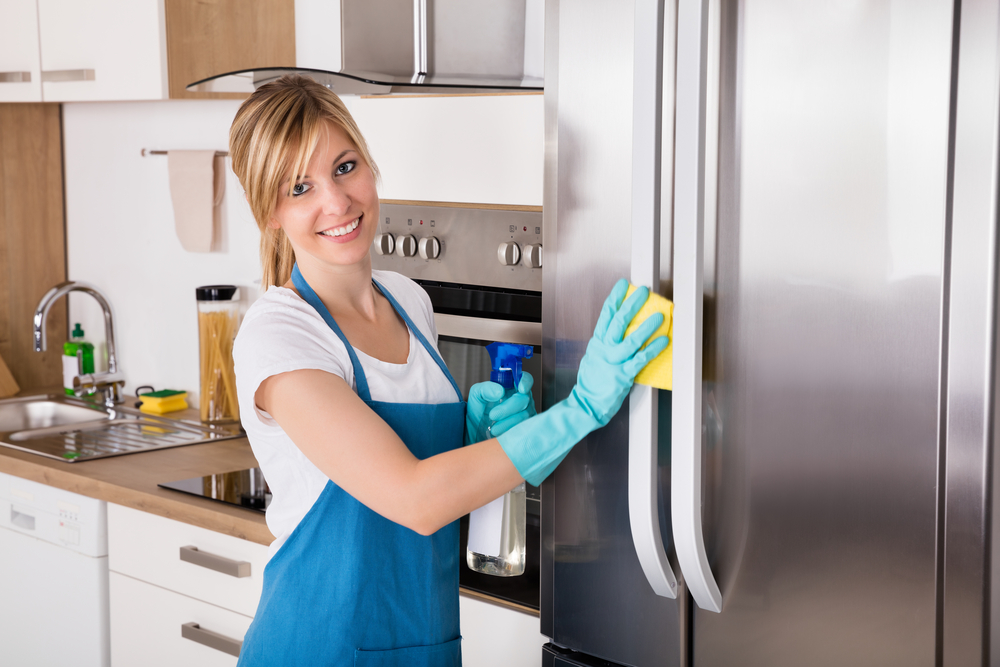 Stainless steel appliances have been the design choice in kitchens for decades. Nothing gives you that high-end, professional-kitchen look like a stainless steel fridge, oven, dishwasher and sink. Stainless steel is strong, durable and resists rust like no other. But if you have these appliances in your kitchen, I'm sure you've wondered how they've earned the name 'stainless' when you see how these appliances showcase every fingerprint and water stain (it's even worse with little ones running about). Abrasive cleaners won't work and can actually damage your steel finishes, making them more susceptible to rust. There are some commercial cleaners created specifically for stainless steel that will work, but there are also several cost-effective home cleaning remedies that will keep your stainless steel sparkling and fingerprint free.
Before you clean, find the grain.
It may surprise you, but cleaning with the grain isn't just for wood. Stainless steel has a grain too – you can see the pattern if you look closely. Be sure to always clean with the grain to keep your steel surface looking its best. It's also a good idea to use 100% cotton cloths to clean and buff your appliances – this will ensure no scratching and help keep the lint and dust off of the surface.
Start simple.
You'd be surprised how many fingerprints can be taken care of with a little warm water and buffing with a soft cloth, so try that first before you try anything harsher.
Cleaning stainless steel appliances is basically a two-step process:
Step one – start with a soft scrub
The first thing you need to do is clean the surface with a mild cleanser. A warm soapy cloth works well. Vinegar does wonders (put it is a spray bottle for easy application). Club soda will also do the trick. The key is to gently wipe away any water stains or fingerprints (remember to wipe with the grain) and dry the surface, so it's ready for the next step.
Step 2 – oil and buff
Applying oil and buffing with a soft cloth will give your appliances the shine you're looking for. You can use mineral oil, olive oil or lemon oil furniture polish. Simply apply a small amount to a dry, soft towel and rub it into the surface (with the grain) evenly, then buff with a dry cloth to make it shine.
Keeping your stainless steel appliances clean is easier that you think – with a little elbow grease they'll be a shining and stylish focal point of your kitchen for years to come.